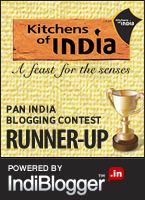 ~~~
It is always fun to organize a party but when family is involved, it demands responsibility too. But my endurance faced a test when I had to impress my would be brother-in-law and his family. Actually my sister got engaged last month and I welcomed my would be brother-in-law and his family for dinner.
I wanted it to be a homely affair - so venue had to be my home's hall room. So, The First Step - Venue was quite easy to decide.
The Second Step
to take was the
Ambience
. It had to be mushy, fresh and romantic. So I chose my georgette curtains, fresh
roses
,
orchids
and
red anthuriums
along with mushy room fragrance. To give it an ethnic & traditional touch, my daughter made a beautiful
rangoli
at the house's doorstep.
The Third Step - Music
, was quite easy and tough both - easy because songs and music had to be soft music and romantic songs for the would be couple. But tough as out of so many songs the best ones were difficult to choose. I took my hubby's help (who himself sings well and remembers so many songs of all the times) and my daughter for the present day genre songs. So I selected the following numbers:
Aaj unse pehli mulaqat hogi, phir aamne saamne baat hogi... (आज उनसे पहली मुलाक़ात होगी, फिर आमने सामने बात होगी ...)





Phalak tak chal saath mere, phalak tak chal saath chal (फलक तक चल साथ मेरे, फलक तक चल साथ चल ...)





Tujh mein Rab dikhta hai, yaara main kya karun... (तुझमे रब दिखता है यारा मै क्या करूँ ...)





Tere haath mein mera haath ho, saari jannatein mere saath hon... (तेरे हाथ में मेरा हाथ हो, सारी जन्नतें मेरे साथ हों ...)





Mera man kehne laga, paas aakar tu na dur ja... (मेरा मन कहने लगा, पास आ कर तू न दूर जा ...)





Aisi chale jab hawa, ishq hua hi hua ... (ऐसी चले जब हवा, इश्क हुआ ही हुआ ...)





Khuda jaane ke main fida hun, khuda jaane main mit gaya, khuda jaane ye kyun hua hai, ke ban gaye ho tum mere khuda... (खुदा जाने के में फ़िदा हूँ, खुदा जाने मै मिट गया, खुदा जाने ये क्यूँ हुआ है, के बन गए हो तुम मेरे खुदा… )
All young couples at the gathering enjoyed dancing to these soft melodies.
Lots of music! Naah.......... Music is the soul of life. These songs playing in the background enlivened the romantic feel.
Ok. So entertainment part was 80% dealt with and for the rest 20% we chose a skit with light jokes which my daughter and her young cousins decided to show their talent with.
Last but certainly not the least - The Menu
- to savour everyone's taste buds - a must for my gourmet party to be a big hit.
To start with in this scorching heat, Chilled
Khus
and
Phalsa
Sharbat followed by a round of a round of snacks -
Aloo Tikki
with
Tamarind & Date Chutney
and
Besan Chillas
with shredded
Mango Chutney
proved to be a hit as I trusted Kitchens of India for the task.
Now for the Main Course also I put my bet on
Kitchens of India's
curries so that I could also get some time to spend with everybody to enjoy the evening.
I served
Dal Bukhara
,
Mughlai Paneer
and
Chicken Darbari
along with
Mirch Ka Salan
to server with
Butter Naans
,
Paneer Kulchas
and
Rice Pulao
.
Everybody loved the food (as expected Thanks to the Kitchens Of India).
Then the last sure shot hit item -
Jodhpuri Moong Dal Halwa
from the Kitchens of India did the trick and everyone looked pleasantly satisfied with the lip-smacking delicacies. They asked me if I had given my sister the tips!
"Will we be getting such tempting delicacies daily?", I smiled and winked at my sister to interact silently (about the Kitchens of India's magical culinary delights).
The evening proved to be a smashing hit. What else could I have asked for? Yes,
Kitchens of India
helped me a lot in achieving my target.
This post is my entry for the "My Weekend Party With Gourmet Food" Contest organised by ITC Kitchens Of India in association with IndiBlogger.
This post was adjudged as one of the winning entries by Kitchens Of India for a Rs. 1000 Voucher here.
Thanks to KOI and IndiBlogger.