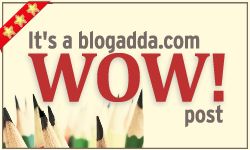 BlogAdda's Mention!
~~~
Couldn't Have Chosen
A Better Time
To Get Stuck!
~~~
This is the tale of an unyielding chariot wheel - the one which refused to budge - that too in the middle of a crisis situation...

Which chariot?
Which wheel?
Oh! No, I don't own a chariot - let alone a stubborn wheel!
The one I'm talking about traces its mention back to the beginning of eternity...

The one I'm talking about traces its mention back to mythology - back to one of the two major Sanskrit epics of ancient India...

Which One?
The Mahabharata!
~~~
The horizon takes shape to the battlefield of the seventeenth day of the Kurukshetra War...
Fraternal Emotions Overtaken By Foe - Like Oppositions...
Two Ignorant Souls...
Brothers Turned Foes!
Thirsty For One - Another's Blood...
Bringing About A Lineage's Flood!
Little Did They Know - One Of Them Would Have To Lose His Life...
Who Would It Be - Was The Unrelenting Strife!
The Climax Had Reached Its Peak...
The Outcome Would Weigh Hard On The Weak!
~~~
Karna & Arjuna - On Two Opposing Sides Of The Battlefield...
A Gloomy Future Was What All Enmity Was Going To Yield!
Failed Attempts To Slay Each Other...
Took A Turn - Owing To A Stuck Chariot Wheel - Bother!
All This Mapped Its Origin To Multitudinous Curse...
Bestowed Upon Karna By Many, Not One - Made It Worse!

Boons And Curses Were An Issue Laid Aside...
It Was All Lord Krishna's Decision & Had To Be Taken In Its Stride!

However Hard We Try To Overlook...
The Wheel Was Obeying The Lord's Command!
~~~
The Chain's First Link Was Bhoomi Devi's Curse...
Shaping Up As A Consequence Of A Young Girl's Obstinacy!
The Girl Crying Over Spilt Ghee, Scared Of Her Step Mother's Wrath...
Would Not Budge To Accept Fresh Ghee From A Pitiful Karna!
Her Despair Prompted Him To Strain The Mud Laced Ghee...
In Order To Let Only The Ghee Drip Out!
When He Strained The Ghee From A Tightly Held Fist...
A Pained, Agonized Mother Earth Shaped Her Despair In A Curse...
The One Of Trapping His Chariot Wheel...
Rendering Him Helpless...
In Times Of Dire Need!
~~~
Some Even Say It's A Brahmin's Curse...
As A Consequence Of Karna Murdering His Innocent Cow...
Unknowingly, While Practing Warfare!
Such As The Cow Was Helpless At That Time...
Such Will Be Karna...
In Times Of Dire Need!
~~~
The Chain Of Incidents,Then, Traces To Guru Parshurama's Vow...
The One To Teach Only Brahmins - Not A Kshatriya Anyhow!
When He Got To Know Of His Favorite Pupil...
Bearing The Bee's Sting At His Flesh!
Not To Let Out A Word Of Despair...
In An Attempt Not To Break The Teacher's Rest!
He, Unfailingly Deduced The Truth...
From Karna's Unfailing Endurance!
However, As A Liar...
Karna Invited Punishment...
The One Of His Memory Failing Him...
His Invocation Of The Brahmastra Failing Him...
In Times Of Dire Need!
~~~
Thus, The Final Blow Of The War Took Its Shape...
With The Chariot Wheel Getting Stuck, Rendering No Escape...
A Powerless Karna, At The Hands Of The Soil...
Pleaded To Arjuna To Not Attack At A Weaponless Warrior!
More So Because He Had Lost Hold On His Invocations...
A Consequence Of His Teacher's Punishment!
The Chariot Representing The Sun God...
Its Wheel Gripped By The Earth...
Indicated The Sun's Eclipse...
And His Child's Destined End Approached!
Both The Calamities Befalling At One Moment...
Karna, Could But Plead In Vain!
Arjuna Agreeing To Adhere To War Protocol...
Waited Patiently For Karna To Recuperate!
However, The Lord Had Something Completely Different In Mind...
Instigating Arjuna To Take Revenge On Karna For All Wrong Doings...
That Very Moment!
A Furious Arjuna...
Agreeing To The Lord...
Beheaded Karna Behind His Back...
With His Anjalika!
With All Said And Done...
When The Truth Dawned On Him...
Arjuna Repented Committing Fratricide...
And Abandoned All His Weapons!
~~~
The Unsung Hero Of The Epic - Danveer Surya Putra Karna Was Destined To Lose His Life...
At The Hands Of...
The Adamant Chariot Wheel
Which Couldn't Have Chosen
A Better (Rather Unfortunate) Time
To Get Stuck!
~~~
BlogAdda gives out a creative writing theme each weekend for Indian bloggers.