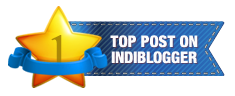 ~~~
The Judge named Success
Is very nit-picky
Disciplining its contenders one by one
With everyone in the rat-race
There are few who make the cut
Some are its favorites - biased towards none
One rule's abidance by all
It DOES NOT Come To You
YOU Go To It
~~~
The Blog-o-sphere for instance
Is a melting pot of success stories
Each a winner in itself
Each has their own interpretation
To their dream montage of success
Each an inspiration of its own
~~~
Ask the 'Blogger Me' in regard
Success is already there for me
Blogging is there for me
With a new journey in tow
I set out in April 2013
I've come a long way through
Whatever I've achieved
Through the means
Seems so little yet so much
Success came steady
To aid me win the race
Realizing along - it's iceberg's tip
Each day - a new journey
Into alleys of Success
Each day - a new step taken
~~~
Success in the Blog-o-sphere
Comes in spurts but
Stays for real long
All I can say is
Success is not one
But many dreams
All I believe is
I have miles to go
Before I sleep
~~~
~~~
This post is a part of the
WordPress Daily Prompts : 365 Writing Prompts
program where the aim is to post at least one post a day based on the day's prompt.

The Prompt for August 25 was a 'Free Prompt' provided to all of us, Guest Authors.
The Prompt is, Secret Of Success - 'What would it take for you to consider yourself a 'Successful Blogger'? Is that something you strive for?'

This is my Nineteenth Post as a guest author to Project 365 : We Post Daily!