This post breaks the long famine of WOW! Badges!
This one was long awaited...
Here it is...
~~~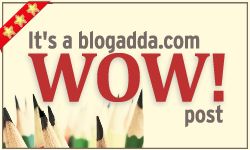 ~~~
Bleeding India
People are suffering!
So What!
We are flourishing!
~~~
Nation is crying!
So What!
We are laughing!
~~~
Rupee is dipping & inflation is rising!
So What!
Our bad time is dipping & good time is rising!
~~~
Citizens below poverty line are increasing!
So What!
Politicians above wealth line are increasing too!
~~~
Innocent people are forced to feel ashamed of their deeds!
So What!
Corrupt people like us are not ashamed of their sins!
~~~
God is seeing it all!
So what!
We assume ourselves to be GOD!
~~~
BlogAdda gives out a creative writing theme each weekend for Indian bloggers.