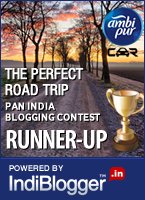 ~~~
Diwali Surprise Gift!
Thanks Indi For The Couple Movie Tickets!
~~~
At times, I feel so dull --- Just idling and doing nothing...
No one to converse with, Nowhere to go, Not to visit any new places and Not to meet my peers.
I don't have much to do now - a - days...
Recalling The Past Week Does Help In Conquering The Loneliness Though...


Last week, when I came to this house for the first time, I got a Gala Welcome.
I was showered with flowers --- A traditional Arti and then sweets distributed among all.
My figure and color were appreciated by all. I dreamt of going places with all the family members, proving to them, my worth by displaying my specialties and making them feel proud of me.
But, nothing of that sort happened.
I haven't yet got the chance to display all my abilities to my best.
How I wish for that day to come soon in my life!
Ah! God then listened to my prayers and last Wednesday, I rejoiced when on the way to the Market, plans of A Weekend Outing initiated among all the family members.
They were discussing about various places and I was wishing that they zeroed in on one - to which I could zoom off at my maximum speed!
And YES! I was glad when they decided on Agra as the Ultimate Destination!
On the D-Day, I got a thorough wash with soapy and then refreshing water. I was sparkling in the rising sunlight of the Morning Hours.
My owner checked me thoroughly and got my tank filled.
YES! I am the Majestic Flame Red Sedan With Black Roof --- Tata Vista D90 ZX...
My owner, his wife, their two small cute kids
and the Family's adorable American Sniffer, Snappy --- all were so excited --- Just like me and gathered their stuff for the picnic and stocked it in my boot.
Yes, there is ample boot space in me --- So much so that no one was disappointed!
They made their separate baskets comprising eatables, toys, games, mats, food for Snappy...
The moment came and we started towards Our Road Trip!
We passed through garbage dumps and stray cattle but to our rescue, there came the ultimate Odour Eliminator (unlike its competitor Maskers) --- AmbiPur --- With The Sky Breeze Variant By Our Side, Malodors Just Vanished Into Thin Air --- Breezy Cool!
The 'Breezy Cool' AmbiPur Sky Breeze Variant...
I went through the cramped internal roads full of rickshaws, two - wheelers, oddly parked vehicles in front of illegally encroached shops and houses -- where I couldn't speed up and was getting irritated.
My owner had to change my gears so frequently that it hurt! Ouch!
But at last, I was relieved of my pain --- as we reached the Yamuna ExpressWay, Noida and WOW! I sped past the trees and other vehicles too!
I was loving the smooth road and hence, along with my speed, my Owner and his family also started gearing up...
We all were enjoying the Fresh breeze and Greenery by the roadside. Kids started singing songs to play Antakshri. Even Snappy was enjoying himself with the melodies in his own puppy voice...
I used to feel elated whenever they sang any song about me and my speed.
I was enjoying the trip --- to cover approximately 200 kilometers via Mathura - Vrindavan --- racing by --- But the one who caught my attention --- Red Chevrolet Beat... --- The One Who Made My Engine Beat Faster!
But suddenly one junkie Truck making strange voices passed by, at a very close distance!
How I hated him because I lost track of my Beat!
For a split second, I was really scared but then My Owner swirled my steering a bit and we were on our path again...
Our Trip started getting more engrossing when my Automatic Rear Wiper sensed drops of water on my Rear Windscreen. The kids started making Jolly Faces on the Windows.
Then the round of Jokes started.
I never cherished such Wiper - Tickling Jokes in my whole life...
As we progressed towards our destination, we came across a mustard field --- lush green leaves enlivened and refreshed by the ongoing slow drizzle...
Golden Yellow Flowers added to its aesthetic appeal...
The view was simply breathtaking!
Hence we halted for a while and they went inside the field for a quick photo - session.
When they came back, kids adorned the sides of my Windshield with few stems of those mustard plants.
I simply loved it!
By that time, everyone was feeling hungry. Out came the picnic baskets with mouthwatering delicacies and snacks.
I was not hungry yet as my tank was just near to full.
Thank God! I need not fill my tank after every few hours like 'Homo Sapiens'...
I gave such a smooth ride throughout that even the kids didn't feel nauseated.
The biggest advantage of the road trip --- that they could enjoy the picturesque countryside, nests of Tailor Birds hanging from the trees, silos and scarecrows in the fields and the fresh air --- all giving a refreshing change from the pathetic concrete 'Jungle Of The City'...
Another advantage they took of the Road Trip was to halt the journey at their own wish. They stopped over at the temples of Mathura and Vrindavan --- prayed to Lord Krishna and ate 'Pedas'...


I was racing as the road was not very busy but still I was in full control of myself --- taking care in giving way to occasional farmers on bicycles and bullock carts.
Finally, we reached Agra. They parked me in the parking lot and went to see Taj Mahal...
I could only see the Majestic Tomb of this Wonder Of The World...
Annyway, I also found my way to spend my time...
I was observing other vehicles parked by my side --- some cute small ones, some long ones, some of my shape and size and some Tourist Buses too...
People passing by me were praising my looks!
I felt elated and saw others feeling Jealous of me...
Some hawkers selling groundnuts, Fried 'Papads' in long baskets, some with momentos, keychains and postcards of the White Wonder.
Some selling glass earrings and bracelets and some with the World Famous Petha.
As they came out of the monument's complex, they bought those momentos and the Pethas...


Now was the time for our return. I was fully ready! On the way, the sun started setting which they captured in their lens.
We all enjoyed the Trip and reached back home.
The Whole Family thanked God and appreciated me and
Ambipur
too for a safe and fragrant journey and all the enjoyment they experienced thanks to me!
I was glad too that I met everyone's expectations and enjoyed this Road Trip along with them to the fullest...
~~~
This post is my entry for 'The Perfect Road Trip' Contest organized by AmbiPur in association with IndiBlogger.
You can vote for this post here.
~~~