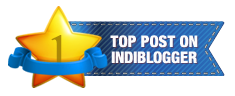 ~~~
A few hours back, it was very heartening to watch the video in which Karan Johar is seen interviewing a two-time cancer survivor. This is the story of Ruchi Gokhale who is a fashion blogger, aged 20. She is a cancer survivor. Not once, but twice has she grown out of the demonic disease's reach. It was a glorious and an energetic interactive discussion between Karan Johar, as a supportive host and Ruchi Gokhale. Within few sentences into the conversation, Ruchi displayed her zeal for life and vigor for positivity.
Ruchi is a survivor of not one but two different types of cancer. First she encountered Hodgkin's lymphoma. This is also termed as Hodgkin's Disease in which the cause of cancer is lymphocytes or the white blood cells. The cancer starts spreading within the body from one lymph node group to another thereby increasing the risk to a higher level. The treatment calls for chemotherapy, radiation therapy or hematopoietic stem cell transplantation.
Ruchi's surviving mantra to endure her aura among the prying eyes of this judgemental society was to use various kinds of scarves, Kohl and other cosmetics to overshadow her bald head, which was now a very prominent part of her body. The absence of tresses didn't impact her zeal and confidence to believe that she was beautiful and lively. She experimented with wigs and then enjoyed taking vivid 'selfies' with her friends. She is planning to create a YouTube channel, focusing on cancer so that the confusions and embarrassing unawareness she faced when she encountered Hodgkin's lymphoma and Non-Hodgkin's lymphoma – two different and serious variants of cancer are mitigated to a certain extent for the masses. The average survival rate for five years with this type of cancer is 85%.
Ruchi was brave enough to emerge out from its grip, completely. But her destiny had another, and more serious form of cancer in store for her, to face. Next, she found herself trapped in non-Hodgkin Lymphoma's tightening grip. This is a form of blood cancer but here the five-year survival rate is less than 70%. Probably Ruchi had decided to fight against anything which came her way and was resolute enough to defeat it.
In Ruchi's words, 'she had cancer' but 'cancer did not have her' and that was her motivation that kept her going. Ruchi has reinvented herself in a charismatic manner.
Karan Johar offers you to join him and reinvent yourself with #LakmeSchoolOfStyle, the same way as Ruchi did. Once you build up the requisite willpower within you, then probably even severest of risks will avert from you. As per Mr. Johar's opinion, people in today's era are not only sculpting their personalities but their life, and that too in a big way.
For, style is not just about your wardrobe and accessories et al. Style is about the inherent elegance, grace, self-confidence and a feel good factor of oneself. Ruchi, for all of us, is a great warrior in the real sense. That is the symbol of real power - elucidating a phenomenal faith in life, which Ruchi persevered to possess throughout her war against cancer, and beyond.
For fame comes not only from being praised and applauded for your effort publically, but also it is that voice from within which motivates you to aspire to turn your dreams into reality and make that one wish come true.
---
Lakmé is one of the pioneers in the beauty industry. The things they do set the trend in fashion and beauty that the rest of the world then catches up on. In keeping with this tradition, Lakmé has started #LakmeSchoolOfStyle, India's first fashion video magazine.
Lakmé School of Style is a first of its kind show that will not only bring the newest trends and happenings from the fashion world but in the process will also create new age fashionistas and idols. A fashion brigade led by Editor-in-Chief, Karan Johar himself will bring the fashion news, views and events from all over the world to the internet screen.
#fame is something beyond any business or brand. It is an iconic drive, a unique movement, a proactive approach to face the future. #fame believes in two things without an iota of doubt. It believes that a piece text is solely going to be replaced by a series of frames in a video in the coming digital era and the talent will have the highest value, be it of any kind.
Since everyone is unique in their own way, each one must live their #fame. This is a single platform that invites every talented individual to join #fame and do what they love most, to live their passion completely. This is the platform where each talented individual is free to seed an idea, enhance their skills, create a community and grow in a consistent manner.