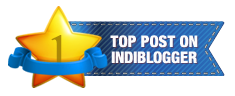 ~~~
Stir Your Souls: Of Love And Friendship, #lunchboxANDyou, in association with @AndPicturesIN & @indiblogger http://t.co/La3yYtX6h5
— Poonam Khanduja (@stiryoursouls) February 10, 2015
~~~
The month of February spells love.
The month of February spells dearness.
The second month of the year belongs to Cupid, after all.
~~~
However, love in the month of February does not necessarily have to be love for your spouse or for that 'special one' in your life.
For me, this is not the notion, at least.
~~~
Love for my dear ones, in my opinion, does not require a special month, for it to be celebrated.
I love my family, and I celebrate this mutual emotion with them, all year long.
~~~
For us, Valentine's Day and its preceding week pass along without much pomp and show.
We, at home plan Cupid's Day so that the entire family gathers around, in round table fashion, for us all to enjoy an unpretentious, cordial, and homely dinner, or even lunch, sometimes.
This has been an annual ritual, so to say.
It is not only about a family lunch or dinner.
Each of us writes a personalized, hand-written note to that one family member, whose special memories have made the past year lovelier.
Also, we are to exchange those notes over Dessert, to make the memories, as well as the lingering pleasantness of taste, even memorable.
The dessert too, is special.
The 'From...' person prepares the dessert which is the 'To...' person's favorite.
Quite an unusual combination with the dessert and the note, you'd say.
In the end, each family member, has this sweet gesture and a special note, addressed to them, to cherish. :)
~~~
This time around, we plan to organize a lunch.
Speaking of lunch, the other day, I was flipping through those movie channels on TV.
As I chanced upon
&Pictures
, I was compelled to pause for a moment.
Why?
But of course, I chanced upon one of their adverts, announcing the Valentine's Day Premiere, of the BAFTA Nominee, The Lunchbox, on Cupid's Day at 8.
It is one of the precious gems of Indian Cinema.
I have seen it in the past and am willing to spend a good two-and-a-half hours watching this masterpiece again too.
At the same time, my Twitter timeline was set abuzz by ANDPictures!
They had been tweeting, inviting people to share their Lunchbox stories and their love for food.
~~~

I wanted to send in my tweet too, but my tortoise - paced internet did not allow me too.
Nevertheless, my Eureka moment saved the day.
I couldn't send in my tweet to participate in this novel campaign.
That reminded me...
My love for food?
The lunch planned for Saturday!
The dishes for lunch had been taken care of, without a sweat.
But, I still hadn't decided the name which would fill in the blank ahead of 'To...' in my note!
Lunch...
Lunchbox...
The Lunchbox...
Yes!
Lunchbox it is!
~~~

Then and there, I connected the dots to visualize the family member for whom I'd be penning my personalized note!
I would be addressing this year's note...
To...
My Daughter...
Charu!
~~~
First things first, let me tell you that Charu's favorite food or favorite dessert, if you may call it, is Carrot Pudding, the humble

गाजर का हलवा

! But, for this year's special lunch, she has requested me for chocolate cupcakes.
So,

chocolate cupcakes

it shall be!
I suppose she won't mind Carrot Pudding too... ;)
~~~
Here's why I'm writing a note to Charu, this year...
For the past many years, my better half and I have been exchanging such notes on this day. This time, I wish to do something different. For a change, I would be writing a note to Charu, and she'd be writing it for her father. :)



This advert on &Pictures brought back pleasant memories. Memories of me packing lunch for her, in that cutesy little lunchbox to carry to school, at the advent of dawn, and of her relishing something home-made, something new in her lunchbox, every day.
Sometimes, it used to be simple cheese sandwiches with her favorite cream biscuits as a side. On other occasions, she used to crave for her favorite Mushroom - Cashew nut gravy, coupled with home made Pulav. I even remember preparing Pasta for her, on multiple occasions. That was when she had to share it with her friends and boast of her mother's special dishes.
This time, I wish to re-live those memories with her. At times, she used to save those biscuits from her box, to share with me, when she came back home. We used to share it over 'What happened in school, today?' sessions! :)



It will serve as the perfect surprise for her, if her favorite Carrot Pudding, or cupcakes come to her served in a similar lunchbox, for her to relish. I'm writing to her because I wish to witness that precious smile on her face. From ear-to-ear, timeless joy! :)

~~~

Don't you wish to have a look at what my personalized note says?
I'm sure you do...
Here, leaving it for you to read, too! :)

~~~

'Tis Valentine's, I've done something exceptional...
Moved away from the archaic concept of Love...

This time it's not about your father and me...
It's about YOU and me, to make you feel special! :)

To surprise you, this Lunchbox has arrived...
To make sure that your love for food too, is revived!

It has been ages - I've always been packing my love for you...
For you, to take with you, in a tiny box - What all do I not brew? ;)

An age-old cliche it is, regarding your Mom's extraordinary culinary skills...
माँ के हाथ का खाना, which always makes you smile, it brings back memorable stills...

Today I'm set to surprise you, with anecdotes of love and friendship...
Out of it all, that we've been sharing over food...

Today is meant to be special...
'Tis Valentine's, it's about me and the cupcakes in that tiny box...

It is about your lovable lunchboxANDyou! :)

I LOVE YOU! <3
~~~
I hope this brings a smile to her face, just the way I'm imagining it to be.
What do you think of my plan, for my daughter, this Valentine's?
I'll be glad to know of your opinion too. :)
~~~
'The Lunchbox' Premieres on Valentine's Day at 8 PM on

&pictures

.
It boasts of stellar performances by Irrfan Khan, Nimrat Kaur and Nawazuddin Siddiqui.
It is a masterpiece by Ritesh Batra.
If you go by my word, you will love this movie too.
Be sure to watch it with your loved ones.
For...
Can you fall in love with someone you haven't met?
~~~
~~~