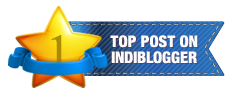 ~~~
I've always been voluble about my opinions...
Not just on the blog, but in person, as well.
If it's an issue, I feel strongly about...
I have to voice my opinion.
~~~
I guess, it's not just me, but this tendency lies at the very heart of Human Psyche...
Of course, the difference lies in the expression.
And, that's where, the thin line between being an Extrovert and being an Introvert is drawn.
~~~
And, that's where, I take pride in being an Extrovert.
So, when, yet again, Project 365, prompted me to post my Opinion...
I was up for the Task! :)
~~~
It's the Most - Talked about issue in the Country...
Indians are fed up of it!
Yet, it refuses to leave our Homeland...
~~~
It Is...
The Ill Fated...
CORRUPTION!
~~~
I've been discussing Corruption, ever since the inception of my Blog...
Once, even as a part of P365...
Standing 'Against' It When I Wanted To Stand 'For' It!
But, this time it's different...
~~~
This Is...
When Opinions Went On A Flip-Flop!
~~~
FAR PAST
Corruption Clung On To India's Roots...
In Such A Brutal Manner That...
Corrupticide Was The Urgent Need Of The Day...
During The Infamous Tenure Of The UPA-Haar Vidyalaya.
~~~
When The Assembly Elections Neared...
The Scenario Changed For The Better...
Or, So, It Inadvertently Seemed...
That Was When, The Opinion Flipped...
For The Better, Seemingly!
~~~
NEAR PAST
With Seemingly Wrong Decisions In Tow...
When Kejriwal Resigned...
He Was Mocked And Reduced To...
A 48 Day Old CM!
~~~
Then Came The Lok-Sabha Elections...
And, The Focus Completely Shifted To BJP...
Mirroring A Historic Victory Similar To...
That Of Post - Emergency Elections...
Thus, The Scenario Changed To...
~~~
PRESENT
We've Come Across NaMo's India...
While 'MODI'fying the Country...
I Guess 'अबकी बार मोदी सरकार!'...
Went TOO Far!
~~~
Because, In My Opinion...
The Country-Folk Went Far Too Overboard...
With A Renewed Sense Of देशभक्ति...
And, A Need For Agents Of Reform For The Nation...
~~~
I Guess, Quick And Progressive Action...
Can Only
Prevent This Opinion...
From Flopping...
~~~
My Sentiments At The Present Moment...
Are Perfectly Echoed...
By This...
As, I Did Genuinely, Go For NOTA...
In The Assembly As Well As Lok-Sabha Elections...
~~~
At This Very Point Of Time...
I Wish To Acquire An Insight...
Into Mr. Narendra Modi's Mind...
~~~
Into An...
I
nitiating A Sea Change - Is NaMo's India MODIfied?
D
etailing The Strategy For Reform - On Modi's Mind?
E
xpecting Prompt Banishment, So Corruption Disappears!
A
ffecting Us, Was A Trance, Of Inhabiting The Dream!
L
o & Behold, We Were Set To Face An Adroit Scheme!
I
n An Instant, Gaining Insight, Into An Ingenious Mind...
S
crutinizing His Plans For The Betterment Of The Nation!
T
racing & Tracking A Mind Map - From Gujarat, For India
M
odi's Sure Corrupticide - Is There Any, Into His Mind?
I
dentifying His Plan Of Action, Is What Is, On My Mind!
N
otifying Him Of My Expectations, Noting His Expression.
D
educing Their Concerns, Pinpointing Those With Precision.
~~~
This post is a part of
Write Over the Weekend
, an initiative for Indian Bloggers by
BlogAdda
.
This post is also a part of the
WordPress Daily Prompts : 365 Writing Prompts
program where the aim is to post at least one post a day based on the day's prompt.

The Prompt for Yesterday was a 'Free Prompt' provided to all of us, Guest Authors.
The Prompt is, Flip-Flop - 'Think of a topic or issue about which you've switched your
opinion. Why the change?'

This is my Sixteenth Post as a guest author to Project 365 : We Post Daily!