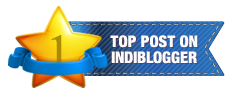 ~~~
At The Mention Of The Word '
Zest
'...
I Am Reminded....
Of
Spontaneity
...
Of
Vigor
...
Of
Energy
...
Of
Reflexive Action
...
Of
LIFE
!
~~~
I'm Reminded Of...
Certain
Emotions
...
Certain
People
...
Who've Added That Zest To MY Life...
Without Which, It Would Have Been Dull And Monotonous...
Without Which...
The Life In Me...
Would Have Been Lifeless...
In Its Entirety!
~~~
The First People, Who've Been Filled With 'Zest', All Their Life...
And, Who've Added The Same Stroke Of Liveliness...
To My Artistry...
My Parents...
Just One, of the many 'Zest' Moments in our lives...
This one goes out to my Parents for wholeheartedly but effortless, having taught us - both my brother and me - to live life to the fullest...
Celebrating each little Occasion with the Grandeur, the Vigor and the Zest it deserves...
Never letting go of an opportune moment in our lives... :)
~~~
The One Whose Face Flashes In My Mind, Next Is...
My Husband...
Each Moment Spent Together...
Is An Experience...
On How We've Spent Life...
All In All, There Have Been...
Joyous Memories - Like The One, Above.
Not So Joyous, Testing Times - When Some Calamity Befalls The Family.
Disagreements - Well, Who Doesn't Have Them In Their Marital Or Familial Life?
So Do We! :)
Adventures - Each New Day, Is A Zestful One, With Him, By My Side...
And, All Of These Incidents Reiterate The Fact That...
We've To Row Along In The Same Boat, Called Life...
With The Same Perseverance & Zest...
Every Single Day! :)
~~~
Next, Comes Familial Bliss...
And, With That...
Comes...
My Daughter...
Are you able to spot that mischievous yet spontaneous yet Zestful look in her eyes?
Each day has been a New Learning, from her!
The way she always wants to be the First One to try something new, among her peer group, reminds me of the Child-like curiosity that ought to be an inseparable part of the Zest in Life...
The way she states a New Perspective to each situation, faced by the family - A perspective which none of the others could have thought of - That's Her!
The way she prompts me, with her unique take on each of my blog-posts before I even pen them down...
I'm awe-struck each time, by her Passionate Zest towards living Life! :)
~~~
Now, I Go Over To...
My Friends...
My relationship with my friends had been as memorable as that with my teachers...
It is with them that I learnt the importance of Team Work & Time Management...
Not to miss out on the fun we had, during this Field Trip, in my college days, at Ranikhet, Uttrakhand.
The 'Fabulous Five' as we used to address our Group as - was formed in X Standard in school and parted ways when we went on to pursue our respective Masters in five different states of India...
Quite a divine coincidence, that the Number 5 has stood Testimony, to our long lasting friendship...
So much so, that we still interact with each other through 'Letters'!
Much Like Pen Friends...
I feel that our Friendship has raised the bar for all of us, in our lives! :)
~~~
My Irre'Zest'ible Five Would Not Be Complete...
Until I Give It Away, To...
My Students...
Ever since I've begun with my teaching career back in July 1986, my life as a Teacher, has been filled with moments of Pride, for my Students, and their achievements...
Each Teacher's Day Celebration is filled with Zest, as each year, I unleash, and I'm amazed at my students' Creativity, Effort and Respect towards the Teacher in me...
And, So, I can't help but mention how my students make each day at work, even more Zestful and Enjoyable!
Even today, when they meet me at Alumni gatherings, or even at any other Events, as such, my heart swells with Pride...
To see, how far they've gone in their respective lives, with each of their unique Success Stories! :)
~~~
After All, They Are, My Five, My...
Z
ealous, It Is Their Own Approach Towards Life...
E
xplaining To Me, Their Experiences, About Life...
S
triving Energetically, To Live Life To The Fullest...
T
hanks To Their Passion --- Which Is My Fullness!
~~~
This post is a part of the
#ZestUpYourLife
Activity in association with
TATA Zest
and
BlogAdda.com
.