MY First Ever WINNER POST at IndiBlogger!!! :D
All others in the past were Runners - Up.
This is for Round 1 for my Beautiful Food!
I'm over the Moon and Back! :)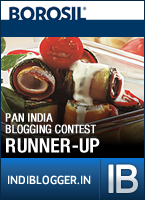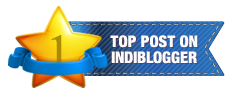 ~~~
It Was One Of Those Days...
Of Congratulations And Celebrations...
~~~
When The Entire Family Had Gathered...
For A Dinner Hosted By Hubby & Me...
On The Occasion Of Our 20th Anniversary...
~~~
And, Planning Such Dinners Is Always So Much Fun...
Especially When You Have Family Members Belonging To Each Of The Sun-Signs Of The Zodiac, To Keep You On The Run!
Those Dishes On A Platter...
With An Aesthetic Companion, As
Borosil
, To Flatter!
~~~
Yes, You Heard It Right!
11 Family Members Belonging To The 12 Signs Of The Zodiac?
Yes, You Heard It Right... :D
One Of Them, Ought To Be A Cusp, You Know... ;)
~~~
And, That Day, Indian And Italian Food Ruled The Hearts...
Or The Stomachs, Maybe? ;)
A True Amalgamation Of Two Diverse Cuisines...
~~~
So, Here We Begin...
With Our Astrologically Gastronomic Delights!
~~~
Remember To Go Along In A Refreshing Rhyming Tone...
~~~
Starting With The Emperor, The Leader Of The Sign - An Arian...
Fiery, Vibrant, Energetic And As Enthusiastic As My Niece...
To Bring Up As A Starter, I Have - Achari Bhakarwadi...
As Tangy And Zesty, As Could Possibly Be!
Served In Borosil's Square Dishes, By Me!
Advancing Along, With An Affectionate, Determined Taurean...
Earthy, Practical, Stable, Patient, As Strong, As My Sister...
To Go Along As Mocktail, I Have Margarita Tamarind...
Coupled With Cool Refreshing Basil And Lime...
Given In Pristine, Clear Vision Glasses, By Me...
We Come To The Cusp Sign - A Geminian And Cancerian In One...
Air When Coupled With Water Goes Interesting, You See...
And So, For My Curious And Imaginative Daughter...
I Bring Vol-Au-Vents With Corn 'n' Cheese!
Puffy Pastry - Little Salt 'n' Tinge Of Sweet...
Small Packets Of Delectable Delights, In My Mini Plate Set, If You Please!
~~~
So, We're Done With The First Fabulous Four Of The Zodiac...


And, With The Drinks And Starters Too...
So, Did My Gastronomy Coupled With Borosil's Presentable Glassware...
Inspire Your Taste Buds?
Let's Carry On With The Foodie Trail, Then...
~~~
Moving On, Along With The Zodiac-Chakra...
Fire Again Takes Charge, With A Royal Leo-ness Manifestation...
Ambition, Pride, And Individuality Personify My B-I-L...
Commanding An Array Of Main Course Dishes, Mushroomy Lasagne...
Oozing With Enticing Aromas, Melt-In-Mouth Parmesan Cheese...
Presented To You, In Enticing, Exquisite Oval Dishes!
An Earthy Virgo Male, Who Now Takes Lead, Is My Father...
The One Who Has An Analytic Approach And A Critical Eye...
To Him, I Proudly Stage, Corn & Asparagus Salad, Healthy...
With His Knack For Detail, I Couldn't Overlook Nutrition...
To Floor Everyone With My Designer Bowls, I'm On A Mission!
She Has An Air Of Perfection Around - Taking Center Stage...
That's How My Family Describes Me, A Narcissist, Not Me!
With My Attempts To Harmonize And Balance, Work & Home...
A Ravioli With Spinach Filling, Hale 'n' Hearty Suits Perfectly...
And That's How I Like To Cook It - In My Dish - Rectangular-ly...
The One To Take The Limelight Next - Is A Scorpion Mystery...
That's How They Like To Maintain A Secretive Personality!
To Keep It Up, With My Nephew's Tenacity...
I Spice It Up With Cannelloni In Cheese...
The Ingredients I Keep An Illusion, For Him, In My Mixing Dish!
~~~
With That I Wrap Up My Main Course...
I Hope You're Keeping Up With The Irresistibly Instigating Food...
Because There's The Final Family Members To Meet...
And, The Deserts Too Await...
Come On, Follow Us...
Into The Final Leg Of The Taste - Buds' Trail!
~~~
A Restless, Independent, Charming, Honest One - Is Aunt, 'Sagi'...
I Begin The Round Of Desserts, With 'Gajar Ka Halwa' - Hot & Sweet...
Simmered In 'Desi Ghee', Topped With Cashews And Raisins Nutty...
With The Impressive Scent Of Cardamom To Instill...
Served In My Borosil Mini - Plate Set Of Three!
A Success - Oriented Personality, With A Knack For Appreciation...
A 'Capri' Individual With A Sense Of Humor, My S-I-L!
For Her, I Bring Up, Strawberry Crumble, In My Fluted Dish!
A Combo That's Sure To Strike The Senses...
With Cinnamon, Almonds, And Crushed Strawberry!
Uniqueness In Their Art, Perseverance In Their Work...
A Dish, Dedicated To My Mother, Aquarian Innovation...
Mastering The Skill Of Creativity, Humanitarian At Heart...
I Attempt Her Soft Besan Laddo, Sprinkled With Elaichi...
Served In My Oval And Square Dish Set...
This One's Set To Steal!
The Cherry On The Cake - Are My Piscean Bro & Hubby...
Keeping In Mind, Their Large Sweet Teeth, I Plan Accordingly...
Intuitiveness Made Them Know - Chocolaty Walnut Was For Them...
Sweet, Yet In Control, Is My Dessert Of The Day...
Served Atop My Celebration Platter, It Stole Their Hearts Away!
~~~
And, Yet, Before I Wrap Up My Rhyme...
I Must Let You Know...
Borosil Worked Wonders For The Ambiance Too...
My Guests Were Completely Floored...
~~~
Had It Not Been For The Sparkle Tea Lights Set...
And The Golden Lotus Lights...
My Preparation Would've Lacked...
That Perfect Midas Touch!
~~~
Oh! Now, My Rhyme Is Quite Long, You See...
Longer Is The List Of Compliments, I Take Pride In, That's Me...
That's All I Would Like To Top It Up With...
Borosil
Made My Day!
~~~
This post has been written as a part of 'My Beautiful Food' Contest by Borosil in association with IndiBlogger.
You can vote for it
here
.