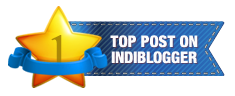 ~~~
What?
A Panel Discussion On Menstrual Hygiene, on the occasion of World Menstrual Hygiene Day.
When?
Wednesday, May 27.
Where?
Mumbai.
This is the first event which I had attended with the aid of LIVE tweets from @sftimetochange. Since this was a topic which interested me, and which should ideally interest every woman in this world, it saddened me to learn that I could not be present at the venue in person, as the event was not being held in my city.
If you have not guessed already, @sftimetochange is the Twitter handle belonging to India's leading women's health and hygiene brand, Stayfree. They focused on this event, with the hashtag #LetsStayfree.
Stayfree hosted a panel discussion on India's least discussed topic 'Menstruation', with an aim to spread awareness around the need for educating young girls and women about menstrual hygiene. Following the panel discussion, Stayfree also announced the launch of its free educational
YouTube channel
that will assist women in getting a better understanding about menstruation.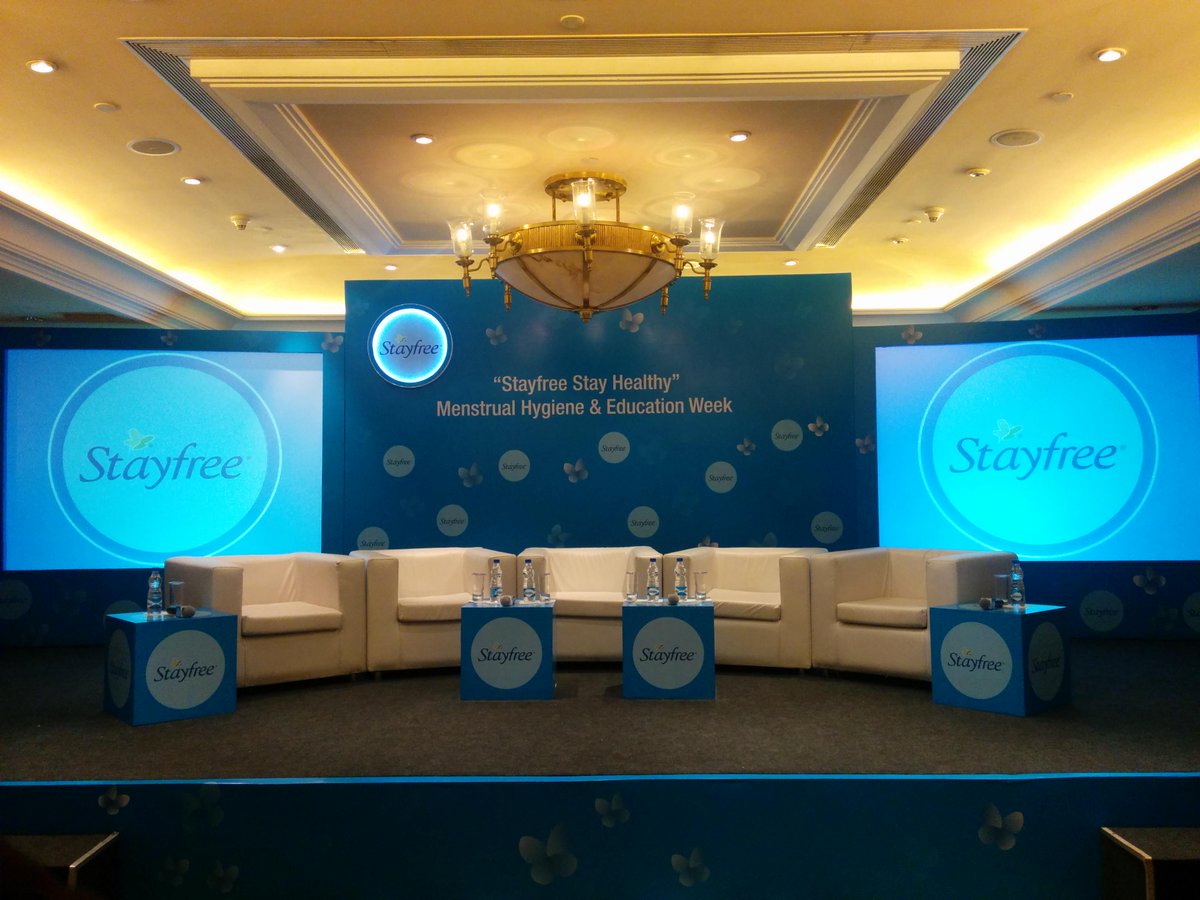 The panelists included experts and well-known personalities in their fields such as:
Gul Panag, Actress, Activist & Former Beauty Queen;
Kritika Kamra, Actress;
Dr. Anita Soni, Obstetrics & Gynecology Consultant at Dr. L.H. Hiranandani Hospital;
Sinu Joseph, Counselor & Menstrual Hygiene Educator;
Lina Ashar, Founder & Chairperson of Kangaroo Kids Education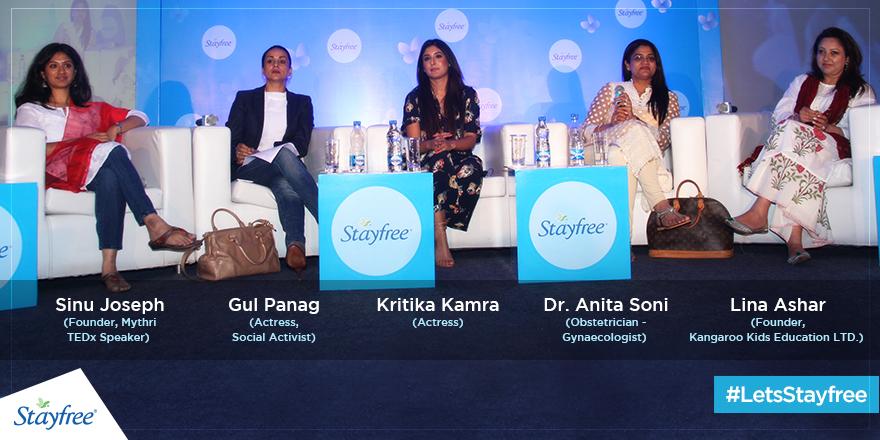 I still remember my first association with Stayfree when
I had blogged
for the 'Stay Free And Healthy Day' Campaign, in my first year as a Blogger.
The same view persists even now. Periods are not taboo, and menstrual hygiene is a necessity.
They presented some harrowing statistics at the discussion.
Good menstrual hygiene is a critical indicator of the holistic progress of women, socially and economically because there is a very strong connection between hygienic menstrual practices and overall health.
In India, despite the economic progress that has been made in the last several years, over 80% of women still do not have access to adequate sanitary protection during menstruation.
In India, feminine hygiene and menstruation, being a sensitive topic, is not discussed openly, and women often continue to harbor myths and misconceptions about it, since no one amongst their family and friends is able to educate them.
Additionally, mothers are often not in a position to guide their daughters correctly since their own knowledge is limited.
Over time, unhygienic practices due to low awareness and education levels can adversely impact the health and productivity of these women.
According to the report, awareness on basic health and feminine hygiene in India is very low, with 75% rural women lacking adequate knowledge on menstrual hygiene and care.
On being asked about the #LetsStayfree campaign, this is what Ganesh Bangalore, General Manager - Marketing, Consumer Business, at Johnson & Johnson India had to say.
"We strongly believe that education dispels fear and prepares young girls to recognize menstruation as being a natural process and face it with confidence. That's why Stayfree is investing behind educating 100 million young girls in India over the next 3 years."
Stayfree thus commits to the cause by pledging to educate 100 million young girls in India by 2018 on menstrual hygiene and protection.
Speaking during the panel discussion, Gul Panag shared:
"Menstruation is a natural process and is not something that a woman or girl should be embarrassed about. During my growing up years and even today, I see women and girls shying away from mentioning the 'M' word.
Women try and come up with innovative ways to state the word in public, but you don't see a man cringing publicly or feeling sorry about what he wants to say.
And all this shushing and discouragement is affecting women and girls basic right to get educated on a topic that is a monthly occurrence till they reach menopause. I feel strongly about a woman's right to educate herself and applaud Stayfree for holding this discussion."
Dr. Anita Soni, Obstetrics & Gynecology consultant at Dr. L.H. Hiranandani Hospital, stated:
"Today, almost every household will have at least one woman or girl who suffers from irregularities in her menstrual cycle but the reported cases will be few due to the stigma associated with talking openly about the red-letter day.
Most women and girls do not understand or give as much importance to their menstrual issues, hence a lot of women do not follow simple hygienic practices like use of sanitary napkins or the right usage of same."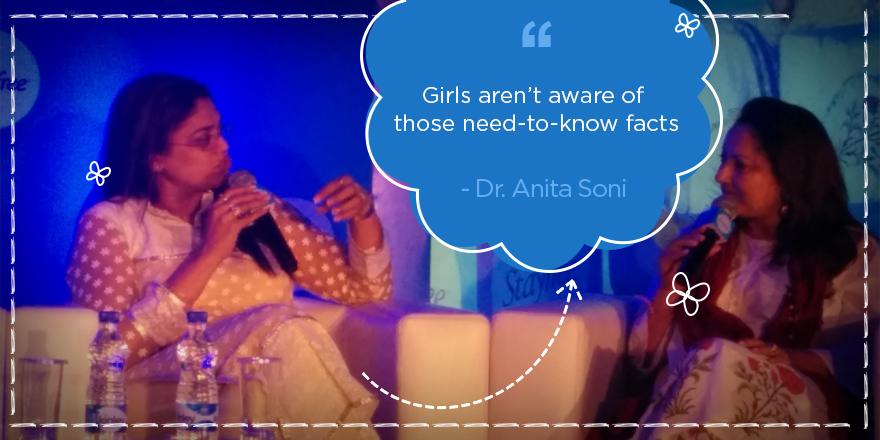 Ms. Sinu Joseph, Counselor & Menstrual Hygiene educator, spoke about the need to start talking about menstruation.
According to her:
"When we don't talk about it, we do not think enough about our body and miss the signs when we need attention.
While education about menstrual hygiene is important, it is even more important to stop looking at menstruation as a disease needing a cure.
Menstruation is the most ancient and reliable tool for women to assess their health and well-being, naturally. Beginning to respect your menstrual cycle is the first step towards being healthy.
Menstrual Hygiene should be addressed at homes, schools, community centers, health centers, women hostels and at the workplace."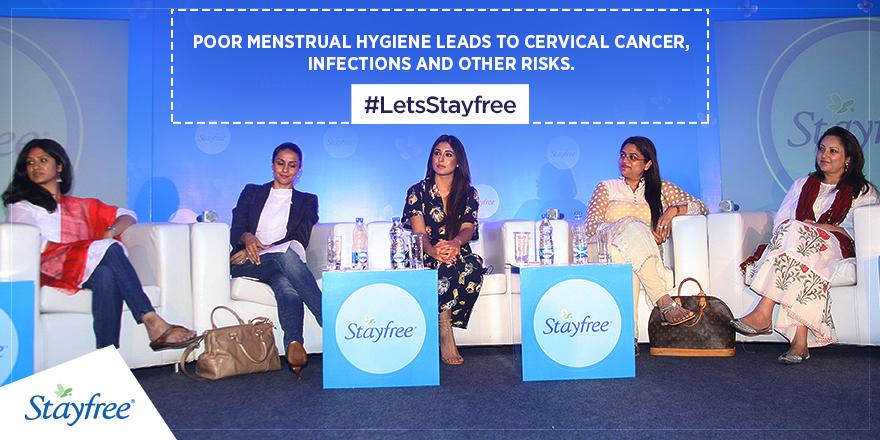 Ms. Lina Ashar, Founder & Chairperson of Kangaroo Kids Education, stated:
"Menstruation is not something that a girl needs to feel ashamed of.
It is essential for schools to understand and make requisite arrangements so that a girl student need not skip school due to menstruation or drop out completely as soon as she reaches puberty.
After all, it is a natural biological process and needs to be seen as such.
There is nothing "dirty" or "unclean" about it; let's stop treating it as a life-threatening contagious disease."
Kritika Kamra was quick to tweet:
"Enriching afternoon. Learned so much about menstruation and menstrual hygiene when I thought I knew it all. #LetsStayfree"
All in all, I found the discussion to be very enlightening, and educative.
How I wish more such discussions are held openly and that we do away with the unnecessary hush-hush around the subject! :)
~~~
P.S.: All images have been attributed to @sftimetochange.