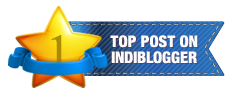 ~~~
'Every Drop Of A Pin And Every Sneeze Gets Written About,
How Else Can I Keep This Going?'
~~~
This is how a humble blog started in July 2011 greets a new reader - Me.
How Do I Discover A New Space, You Ask?
~~~
The first glance through a couple of posts itself makes me feel that the blogger is a lady, and a family's lady at that!
And, my instinct, my gut feeling, never ceases to amaze me!
A lady blogger based in Bangalore at
The Vampire Speaks
going by an interesting pen name of Vethal from 'Vikram-Vetaal' fame, she is!
Her blog site's 'About' Page says she opines that Vethal is an apt name, being neither on land, nor in air...
According to her, life is composed of 'fire and freeze' moments, angel - like and venom spewing!
Apt and interesting, I must say!
Her writing reflects her love, care and responsibility towards family, including her 4 year old tiny - tot...
However, she also devotes her time to expressions towards Indian festivals - revealing her festive, joyful side...
All in all, I would like to keep it short and sweet by saying that 'Vethal' has taken the term 'personal space' to new heights...
Happy to have 'Vethal' included in my blog-o-sphere circle as well! :)
~~~
Merry Christmas Everyone!
May This New Year Bring New Beginnings For All!
It Was Fun Tinkering Around As A Secret Elf For A New Friend! :)
~~~