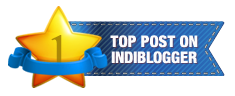 ~~~
What?
A Media Invite to witness best-in-trade chefs exhibiting their prowess in creating awe-inspiring pastries, cakes and confectioneries.
When?
Saturday, May 23.
Where?
Last Saturday was a perfect blend of knowledge, skill-testing and fun. I was provided with an experience to cherish by the in-house professionals of the Academy, which has, after establishing their art with the Malaysian and Philippinean audience, forayed into the expanse of welcoming Indians.
I was greeted by this magnificent sugar sculpture, which you can see, to the left, in the snap above.
That beauty-in-the-box told me that I was in that day, for all things, creamy, floury, sugary and nice. :)
And, I couldn't be happier to witness four of the experts of the trade, acquainting us with the know-how to being a master baker in the comfort of your modular kitchen at home!
~~~
Interactive sessions form the basis of a sound learning experience - be it the classroom or the kitchen. :)
After being introduced to the appliances being professed in their kitchen, we proceeded to the Master Class.
From L to R: Niklesh Sharma, MD, Amit Sinha, Mukesh Singh Rawat, Executive Pastry Chefs and Dinesh Rawat, Director of Pastry Studies.
Chef Amit Sinha was to be our 'Guru' for the day.
And oh! Did I tell you that the floral embellishments on the sides are edible? :D
~~~
First things first. We must don the Chef's Cap, mustn't we? :)
Second, we must step onto our stations.
Third, we must pay attention towards the lesson being taught.
Attention towards the whiteboard, taking quick notes and listening raptly to emulate the expert afterward.
Would you want to take notes of our Travel Cakes too?
Here you go. :)
Did you know of
Madeleines
, also known as French Butter Cakes?
I didn't.
If you don't too, let me show you their adorable molds - Madeleine Pan, as it is called. I thought of them as Mini Oysters baked to perfection.
Don't the molds look like oysters to you too?
One pan gave us nine Madeleine to try.
We made them in Vanilla and Chocolate variants. :)
That is Chef Amit Sinha piping the first vanilla Madeleine.
What resulted after piping and baking, are these...
Those are the first Chocolate and Vanilla madeleines, made by Yours Truly.
A dozen of them. :)
I loved them and made a basketful! :D
The lemon zest gave them a tangy taste.
How do they look?
~~~
Next, we moved on to the Apricot Crumble Butter Cake.
The crumble could be made of Oats, Hazelnut, Chocolate, Coconut or even Spice!
We made it with Coconut and Sugar Icing.
Have a look. :)
These are the barters poured into cups, which would then be placed in the oven to bake.
Vanilla barter at the bottom, an apricot in the middle, layered with crumble, and then again vanilla on the top.
We garnished it with another layer of crumble and icing after it was done baking. A caramelized apricot slice was crowned atop too! :D
See...
~~~
Good things are to be saved for the last.
We finished off with Orange Chocolate Cake.
Bar shaped chocolate cake, glazed and topped with caramelized orange peel.
The two main ingredients of this dessert complement each other really well, I was told. :)
~~~
That is the entire platter.
Apricot Crumble Butter Cake, Madeleine,
Orange Chocolate Cake.
~~~
Do give the Academy a visit if you are a Delhi-NCRite.
You would not want to miss these workshops scheduled, to be held at the Academy during the last week of June and the first week of July!
It is a unique experience and a would be a cherish-able one at that! :)
~~~