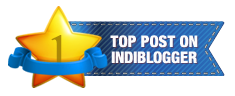 ~~~
With this thought in mind...
And, with the aspiration of re-doing My House...
And transforming it (yet again!) into My Home Sweet Home...
~~~
With the hope of taking Dear Hubby into confidence on this Familial Assignment...
I proceeded with Love & Care...
Into Our Room...
~~~
What stared at me In The Face...
Were the dilapidated looks of a 10-Year-Old Room...
Requesting Me...
For A Humble Makeover...
~~~

"To love Oneself is the beginning of a life-long Romance."
Thus, I Set Out...
To...
Make My Home...
~~~
Since it was our Space, I was beginning with...
Hubby's and Mine...
I had to work on instilling the spirit...
Of Our Marital Bliss...
~~~
What Better Than...
The '
Zeeshaan Be Mine
' Wall Clock...
Be Mine
.
To Remind Us Of The '
Seventh Heaven
' Moment...
When He Went Down On His Knees...
To Aim For My Heart...
<3
And, To Halt That Priceless Moment Of Time, Forever...
~~~
The One Adorning Our Dinner Setting...
The '
Aapno Rajasthan
' Hearty Candle Stand...
With The Flame Lightening The Spirit Of My Solicitor...
And, The Hearts Signifying The Spirit Of Togetherness...
~~~
The Cherry On Our 'Wedding Cake' Would Be...
To Sustain The Eternal Bond Between Our Souls...
The '
Swayam Boutique
' Three Piece Bedroom Set...
The Monochrome Wilderness Among The Fiery Red...
For...
Hearty Blossoms Made My House, My 'Home Quixotic Home'!
~~~
And...
To Instill The Spirit Of Immortality...
Into Our Timeless, Priceless...
R
emarking Me With 'Makeover Required' On The Looks...
O
rnamenting Graces Of Room, Was A Task On My Books...
M
aking The Most Of These Moments, Oh So Very Humbly!
A
nticipating Mushy Makeover - Romantic At Heart Hubby!
N
avigating Nay's, Aye's Of My 'Better Half' - Chivalrous...
C
herishing Timeless Marital Bliss - Memories Spontaneous...
E
voking The Emotion From Both Our Hearts And Ambiance!
~~~