The first post to have been posted in New Year 2014 brings about an E-Voucher worth Rs. 2000!
My name features in the limelight...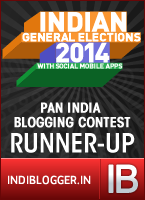 ~~~
V
aishali! Come Here This Moment!
Oh My God! Where's My Wallet Gone?
Tripti, Did You See My Wallet, Anywhere?
Eh? Your Wallet... Lemme See!
Foolish Me! I Should Have Been More Careful In The Crowd!
O
h Dear God, Let Me Find My Wallet, Please!
Relax Di, We'll Not Rest Until We Find Your Wallet!
I
n Fact, Try Recalling The Last Time You Had It With You...
N
ow, Office To Metro To Mall To Home...
D
estined To Be Careless In Crowded Places, Am I Not?
I
t Must Be Either The Metro Or The Mall!
A
nd, We Head To Both The Places, One By One...
~~~
Turns out Di had lost it at the Mall - of course, owing to the New Year Carnival at the Mall, the crowd was unbeatable...
And Di, she has a habit of being careless... especially with her wallet...
It might have either slipped out of her handbag, noticed by an alert citizen or pocketed by a guilt - stricken pickpocket, who decided to hand it over - anonymously - to The Customer Care Desk.
Either way, we were relieved, to have found her wallet.
What we did not realize at first was this...
~~~
The wallet was missing something...
Something?
Which Thing?
Her Voter ID Card!
~~~
Di got to know of it last week when she had to give it in for Address Change formalities, since we had shifted base a month back...
And since it always figures in her wallet, she was sure of ' the pickpocket at the Mall ' having cleverly pocketed the ID while playing 'Good Samaritan' by returning the wallet - sans the ID, at the Mall.
Well, finding the ID wasn't and isn't as easy as finding the wallet...
God knows where it may be at this moment of time...
If we don't manage to find it by the end of this week, Di might have to apply for a new Voter ID Card, altogether!
~~~
What is my importance in your life, if I may ask?
What do you mean by importance?
No, Seriously! Am I just an object - to be used, or may I say, left unused?
Oh Dear! What made you think like that?
You made me think like that!
Come On!
It's only once in five years that we used to go out together!
And it has been long since that day, that year...
Long since I've seen the light of the day...
Long since I've been biting the dust...
Enough Is Enough!
I'm not going to bear any of this, anymore...
I'm going to fight it out for my long awaited outing...
To...
To The Polling Booth!
Guessed It Or Not?
Guessed What?
Who Am I?
Who?
Your Voter ID Card!
I know you've been skipping the opportunity to exercise your right to vote for a decade now...
I had been a mute spectator at the start of it, but this latency and idleness is weighing a bit too much on my nerves...
This time - in 2014 - you even have quite a few reasons to step out to bring about a fresh breeze of change...
Your daughter's a major now...
Isn't that a valid reason for you to set a good example to her - in order to inspire her and even her friends to choose the right leader?
You had been revolting against the dearth of honest, trustworthy leaders, hadn't you?
Well, this year, there's NOT-A to your rescue...
~~~
NOT-A's a valid point, you have there.
I had put it to use even during the Assembly Elections...
So, why not during the General Elections?
I am up and about for it!
~~~
But my dear, convincing this lone voter won't help much!
You have to reach out to the masses, don't you?
Do you think this Canvassing Business has any appeal without an outreach to the masses?
Masses - Especially The Youth...
No, Madam. Not At All...
So, Here I Am With My Aids To Persuasion...
My PR Agents...
Social Applications For A Better Social Network...
For An Increased Outreach To The Change - Thirsty Citizens Of India!
~~~
The Motivating Reminder App...
The Newest Of The New...
To Turn To Many, From A Few...
Motivation, Inspiration Is How The Breeze Flew...
An Alarm Is All It Takes To Remind You, To Start Anew!
The Sketch Your Voter Friends' Circle App...
It's Not Me Who'll Do The Canvassing...
Of Course It's Your Friends & You!
From The Persuading To The Balloting...
Keep Sketching That Circle, Without Any Further Ado!
The First Friend To Vote - Me!
The One With The Purple Finger Tip -
The Touch Sensor
App...
If The Smartphone's Touchy, Why Not That App, Too...
Your Finger Tip's Not Purple, Eh? - We Give You A Boo!
Not Keeping Up With The Fashion Statement Of The Election Season, Are You?
Go Get That Inked Tip, Vote, Nothing Else Will Do!
The Youth Mobilizer App...
All It Needs Is Your Friend List...
In Order To Segregate It, With A Twist!
All It Does To Them, Is Assist...
Assisting The 18 - 35er's To Vote Is Its Gist!
The NOT-A Supporter's App...
The Mission Is To Get Everyone To Cast It...
To Make Sure, Every Citizen, Into India's Jigsaw Does Fit!
This One's Going To Be A Runway Hit...
Especially If It Gives You A 'Vote For None' Permit!
~~~
These Five Apps Are The Five Precursors - Fingers To A Hand...
Not That Ill - Famed Hand, Dear!
The Hand Here Is Yours...
The Alert Indian Citizen's Hand...
The Hand Which Will Contribute Towards Bringing A Change...
In The General Elections, 2014!
~~~
This was an enlightening session I had with you there, Dear ID!
Take A Bow!
It's A Job Well Done!
These Apps Sure Will Bring About A Voter's Revolution...
And Being A Voter, I've Made A Resolution!
~~~
A Resolution To Vote For Change...
A Resolution To Vote For India!
A Resolution To Vote For That 'Feel Good Feeling'...
A Resolution To Vote For A Proud & Alert Citizen!
~~~
Maybe, this enlightenment had to happen...
Maybe, Di's Card's loss and my Card's Soul Stirring Conversation acted as a pre - cursor...
Pre - Cursor To Light At The End Of A Dark Tunnel, Maybe?
What Are You Waiting For?
The Indian General Elections, Is It Not?
You Will Reach Out To The Ballot, Won't You?
~~~
This post is written as a part of the 'Indian General Elections 2014 With Social Mobile Apps' Contest organised by IndiBlogger in association with WeChatIndia.
You can vote for it
here
.
~~~