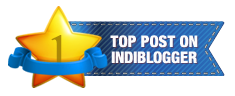 ~~~
Thanks to
SOIL
, School of Inspired Leadership, where I got a chance to meet
Mr. Anil Sachdev
, the Founder and CEO of this unique innovative Gurukul to train professional youth in a direction to achieve new and impossible heights in their life.
~~~
The main focus here in this temple remains of the student getting fully conversant with himself first. Because if you don't know yourself, your strengths and weaknesses, you can never achieve your goals in desired manner. Without knowing yourself you cannot drive your life in your desired directions. And hence, in that condition, one surrenders himself to others, to get driven by them and that way all his ambitions, wishes and interests get buried inside and never see the light of the day.
~~~
We had a detailed interaction with Anil on his vision, mission and the goals he has set for this great institute with a novel cause. The students trained here, who have already a professional spread of 2-5 years, after joining, get transformed into someone they had never met with, never known and never thought of.
~~~
The transformation itself is a unique experience for each student in his or her own way. The curriculum is very structured to build the various pillars of strength within the student in such a way that the mind starts thinking in a unique innovative manner to achieve one's ambitions and goals of an individual's life.

~~~