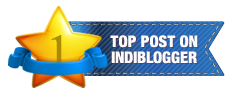 ~~~
This post marks my comeback after a month - long hiatus from the Blog-o-sphere.
You ask me, how I spent my May?
I was balancing professional commitments with personal responsibilities.
No more about a tiring May on the blog.
I'm back to relaxation, back to blogging!! :)
~~~
I already feel Richer...
For, the fact that the next two months, are my 'Free' Months, lights up my mind and heart...
~~~
And yet, when I reflect on my year - long journey into Blogging...
I feel I've garnered a lot...
A Lot Of Experiences...
And Of Course...
There Are A 'Few - In - One'...
K
eying In The Varied Pointers To The Activity, That Is Blogging...
E
nhancing The Many Experiences, The Passion, That Is Blogging...
Y
ielding The Social Connect, A Circle Of Virtue, That Is Blogging...
T
o Know That It's Basic Human Nature, To Give And Take...
A
cknowledging Another's Effort - Yet Not Only For Its Sake!
K
nowing That Heartfelt Reciprocation Only Holds The Key...
E
ach Time, Rich, Richer, Richest - You Would, For Sure - Be!
A
nd Then, See This Aspect Of 'Genres' To Blogging - Oh Yes!
W
ealth Lies In Heartfelt Expression - It's No Work Of Guess!
A
lso, Criticism Is A Face, Of This Multifaceted, Vibrant Coin...
Y
et, Take It In Stride - No Negativity - Dots You Mustn't Join!
~~~
See Blogging As An Adventure Of Its Own - And A Social One At That!
And, You'll Surely Turn Out Richer...
As A Person...
Improving On Various Facets Of Your Personality...
Not As Rich On The Materialistic Front As On The Intellectual One!
Or Maybe, Equally Rich On Both The Fronts?
~~~
The IndiSpiring thought was #Rich...
This post is also a part of the
WordPress Daily Prompts : 365 Writing Prompts
program where the aim is to post at least one post a day based on the day's prompt.

The Prompt for May 7 was a 'Free Prompt' provided to all of us, Guest Authors.
The Prompt is, Key Takeaway - 'Give Newbie Bloggers One Piece Of Advice Based On Your Blogging Experiences. If You're A New Blogger, What's One Question You'd Like To Ask Other Bloggers?'

This is my Eleventh Post as a guest author to Project 365 : We Post Daily!