~~~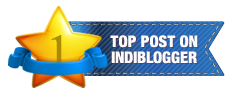 ~~~
~~~
"...And They Lived Ever After..."
This is the ideal closing line for all fairy - tales in Fable Land, isn't it?
Fable Land - the land of fiction, imagination, creativity...
The land of characters - a fantasy land where all of them co-exist peacefully, ideally, in harmony, always...
But, however hard it be to the heart and the story - teller's psyche...
Life isn't a fairy - tale, is it?
Nah!
Life is a harsh reality, and there lies the difference!
Life is no goody - goody, joyous fairy - tale!
~~~
But, like every episode of life has its if's and but's...

We, as mature, sensible human beings ought to focus on the joys rather than the sorrows...
Life comes with its own 'Bokeh filter requirements'...
Bokeh?
The Photography Effect!
You need to blur the dull and focus on the bright!
My Bokeh Captured In July 2013...
~~~
Cut To 'Happily Ever After'...
H
appiness Is An Emotion, A State Of Mind...
A
ffecting Psyche's Perceptions, It Does Bind!
P
acing Along With Life's Very Hurried Pace...
P
assing My Own Milestones In A Long Race!
I
lluminating A World With Momentous Joys...
L
ightening The Sorrows For Joys, With Poise!
Y
earning For Freeze - Frame Moments In Life...
E
choing In The Pace Is A Thought Provoking Question...
V
oid In Thoughts - Happy Ever After? - The Expression!
E
mbracing The Introspection - Such Is This Impression...
R
ecapturing Every Situation - That Engrossing Discretion!
A
ccepting The Fact Well Known, Here I Stand...
F
ocusing On The Finer Detail - Moments Grand!
T
hank You Lord - I Pray With A Joined Hand...
E
njoy Surprises Of Life - The Way He Planned!
Radiate Your World For The Joys In The Land!
~~~

Today's Prompt was a 'Free Prompt' provided to all of us, Guest Authors.

The Prompt is, Happily Ever After - 'And They Lived Ever After...
Words that all of us have read in so many books, famous last words...
Think about that line for a few minutes. Are you living happily ever after?
If not, what will it take for you to get there?'
This is my Second Post as a guest author to Project 365 : We Post Daily!
~~~