Nestling The Seed Of Human Psyche - A Curious Mind Within Its Reach!
O
h! Orienting Itself Towards An Unknown And Very Novel Exploring...
W
ading Through A Coast-less Ocean Of Facts Is The Intellect Of Each!
L
eading, Inspiring & Humbling, - Is The Power Of Knowledge Such?
E
xperience, Enable, Empower, Edge - Its Power Is Powerful, Such!
D
iluting The Darkness Of Ignorance - Knowledge Is Powerful, Such...
G
uaranteeing Honor & Humility - The Power Of Knowledge Is Such!
E
ssence Of Knowledge Lies In That Expression Of One's Knowing...
~~~
~~~
~~~
Knowledge has many facets to its omnipresent being...
Knowledge is a multi - faceted personality...
Knowledge, as a weapon scares away the demon of ignorance...
Knowledge, as an aid assists in eliminating dull - mindedness from the being...
~~~
Knowledge Is A Skill To Acquire...
Learning Comes From Knowledge...
The Ability To Imagine & Create Roots To Knowledge...
Skill - Development Also Owes Its Being To Knowledge....
~~~
Knowledge Is An Art...
Experience Is The Teacher - An Artist...
The Human Mind - Its Perpetual Canvas...
~~~
Knowledge Has A Start...
But, Has No End...
It Is Like A Ray...

Of Light...

Emanating From Heaven...

And Illuminating The Universe...
~~~
~~~
And It Is This Knowledge...
We Ought To Respect All Through Life...
~~~
What If...
Knowledge Is Served To You On A Platter?
And You Are Spoiled For Choice?
~~~
What If...
You Got To Chose That One Subject...
The One Of Your Liking...
Your Interest?
~~~
Well, If You'd Ask Me...
~~~
Dear Readers...
This Is Going To Be Very Interesting...
I Promise...
~~~
Fasten Your Seat Belts...
And Brace Yourselves...
Because I'm Going To Guide You Into The Depths And Details...
Which Is Also A
Science
...
~~~
The One I'm Referring To...
Is...
~~~
The Art Of Handwriting...

The Science Of Analysis...

~~~
GRAPHOLOGY Equals Handwriting Analysis!
~~~
Yours Truly Holds A Masters In
Science
...
Half Of Her Lineage Is Involved In
Commerce
...
And The Other Half In
Education
...
So The Only Sector Which Lies Untouched Is
Humanities
...
~~~
Thus, This Choice!
~~~
Having Been In The Teaching Profession For A Long (And Still Strong) 28 Years,
I've imparted knowledge to numerous bright minds, sharpening their intellect.
Graphology came to me as a surprise and attracted my attention from the first glance itself.
It was pleasantly surprising to know that an individual's personality could be graphed from his/her handwriting.
What struck me was - if fingerprints, retina, and blood could be the distinguishing factors for an individual, why not handwriting as well?
This intrigued me to the core and I started viewing Graphology as a subject of pursuit...
The Knowledge regarding this subject which I was able to garner was -
The Central Nervous System provides a direct and undisturbed link to the deeper self. Every human mind comprises a unique and immensely complex blend character and an accumulation of life experiences. Handwriting reflects this by constant evolution.

Graphology links itself to psycho - analysis and having acquired the skills of a graphologist, a person can successfully graph another person for key personality elements of the likes of...
Ambition
Energy
Sociability
Adaptability
Sensitivity...
~~~
The Mind Governs The Pen...
~~~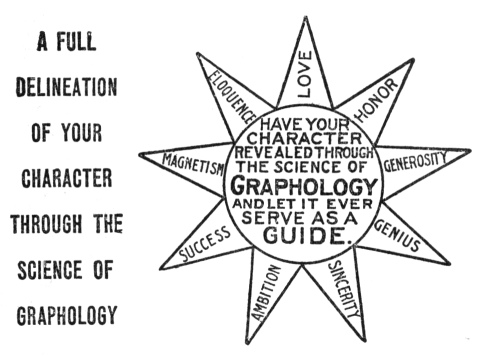 ~~~
Furthermore, GRAPHOLOGY Traces Its Origin Back To The Soils Of Capri, Italy, Europe!
So, what better a way than to learn art in the land of the artists, themselves?
For this purpose, I'd like to move to Great Britain!
After All, Knowledge Is Great...
What Better A Way Than To Pursue It In An Even Greater Land?
What Better Than To Achieve Great In Britain?
~~~
The Capital City Is Calling...
~~~
Pity That Graphology Has Been Deemed As A Pseudo Science!
It Is Worth Much More!
~~~
Here's hoping this Science is able to shine through the way!
Here's hoping that Knowledge Is Appreciated!
Here's hoping...

Amen!
~~~

~~~