Being a professional since the past three decades, I've witnessed a lot many individuals, some of whom have been as swift as the wind, while the others have flourished and blossomed in their fields of work. In this regard, I had witnessed a naive junior once, whom I distinctly remember. Being a dusky, bespectacled girl who had a bunch of freckles on her cheeks, it came as no surprise to me, when I caught a few colleagues demeaning her, basis her appearance and simplistic dressing sense.
However, she was to be my mentee and under my tutelage for the initial days of when she had joined us. Going by my philosophy in life, I attempted to identify her abilities and interests during when she was learning the ropes, and guided her to hone her skills, besides trying to boost her confidence by interacting with her to the fullest. She's been in touch with me to this day and every time she meets me, she's all praises for the way I had taught her to care for no one but herself, but I believe that it's a role of one's own willpower and self-esteem to overlook such inconsequential remarks by others in such regard, in all walks of one's life.
There is a very thin line between passing judgements towards someone and demeaning someone. Men take it as their birthright to be judgemental about women. This is probably one of the weirdest superiority complex men have. That is what probably male chauvinism is all about. Why do men always feel as if they have waged war against women? Why do they always feel inferior to the extent that they keep convincing themselves the only goal they have in life is to demean every woman whom they come across in their life? Otherwise, why are they bothered so much about this divide right from childhood? And this undying zeal keeps accompanying them in every walk of their life. It never dies whether they have been dumped in a junkyard or have been able to achieve new heights in their life. It is foolish for them to take women this way because they too, belonged to a woman's being.
Why are men so eager to observe what a woman is wearing, how she appears to them, how she walks, how she talks and all such observations? They forget to look at her brighter side - what she does, what all has she achieved in her life, what barriers has she crossed and what a brave face she has put to all adversities. A woman is not a showpiece. She should not worry about others' judgements based on what she appears bodily. She should not really prepare herself to look presentable to others in terms of mere eye-candy. Despite all her good efforts, she is always worried about how will she be perceived. Every outfit she buys and wears burdens this prime notion on top of her all the time. Almost 70% of men accept that their judgement of women is based on their looks. Almost 65% of women agree that the judgements passed on them has a drastic impact on their abilities to touch their real potential. 70% of women agree that most impactful judgements on them are from men in the family and friends. 72% of women accept that working women have to face the bigger hurdle of this risk of judgements on their looks or clothes than homemakers.
That is the crux of the life. The reality is that it hurts men when they see women equalling them in talent, growth, prospects and career. In reality, they are brimming with an inferiority complex that was programmed into the mind of a young boy right in his childhood by none other than his own parents, knowingly or unknowingly. The parents are equal bearers in this lowly act. That is my philosophy based on which I never cared for the third person's judgements based on my looks because he foolishly overlooks the peaks I've conquered in my life.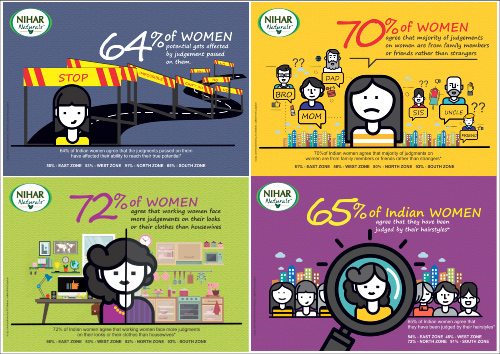 I'm breaking stereotypes based on appearance by sharing my experience for the
#IAmCapable
activity at
BlogAdda
in association with Nihar Naturals.