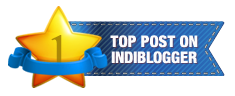 ~~~
Does the title seem intriguing enough?
Does it pique your curiosity? ;)
~~~
Do I divulge in a few hints? :D
~~~
Picture This...
An Invitation.
To One Of The Elite.
The Event Which Was Intriguing Enough In Itself.
The One Which Demanded Attendance In Full Swing. :)
THIS.
~~~
Now, who would dare to refuse such an interesting invite?
First, it's on behalf of the High Commissioner, himself.
Second, it's about the launch of a fruit, native to a Country, that has been innovative enough, to give India, the tangy Kiwi.
I was sure, the Avocado's experimentation would be no less exciting.
Third, it's about taking in Culinary cursors from the MasterChef of India,
Executive Sous Chef at Leela Kempinski, Gurgaon, Mr. Kunal Kapur
.
~~~
So, there I was, on October 10, 2014, at 1830 Hrs.
The New Zealand Embassy.
Just In Time...
For The Press Conference.
From L to R : Mr. Richard White, Trade Commissioner
Mr. Grahame Morton, High Commissioner
Mr. Tony Ponder, VC of NZ Avocado.
~~~
It was here that Mr. Ponder let out the detail, on the variety of
Avocados
being introduced in India was the
Hass Variety
.
Also, they were kind enough to take up queries from the Press and tackle the much anticipated question...
"NZ has given India, Kiwi.
And the Kiwi, as a fruit, has had a distinctive taste that has catered uniquely to the Indian Palette.
Now, that Kiwi has suited itself to our taste, how would the Avocado prove its uniqueness, as compared to the Kiwi, being from the same country?"
Towards the end of the Press Conference, we were introduced to Chef Kunal, who'd marked his presence well before time.
~~~
I'd had a candid conversation too, with Kunal, wherein he'd discussed how the Avocado as a fruit, was tasteless!
And, yet, being tasteless was its biggest plus point.
All because, whenever a fruit is tasteless, it delves in, flawlessly with the basic elements of a dish.
However, the Avocado did lend a unique creaminess and a smoothness to whatever dish it was coupled with.
Also, he'd let us in to an insight, of how the Avocado was a treasure trove of vital nutrients, essential for children.
And, how he, as a new parent had been handed out Avocados as Baby Food for his new born, too.
So, now I knew, that his association with Avocados spanned beyond just New Zealand.
He was quick to explain how Avocados worked their magic...
"
New Zealand Hass Avocados are an amazing healthy and versatile wholefood that contain the good fats needed to maintain a healthy heart. They interestingly blend with everyday Indian meals and the soft buttery texture and nutty flavor goes really well with many traditional dishes such as Bhel Puri and Tawa Pulao. They also blend seamlessly with curries.
"
~~~
Before the conversation drew to a close, he disclosed a few details about his second book, awaited in 2015, which remain secretive on his request.
Also, I received This.
And, an invite from him to attend the LIVE Masterclass to follow in few minutes...
In the meanwhile, while Chef was actually donning the Chef's Hat and getting ready for the evening dedicated to Avocados, we were treated to a host of snacks, with a unique touch of the Avocado itself.
Here you go for an interestingly unique presentation...
You see for yourself...
I begun with Dessert...
Avocado Kulfi & Cream Topped Cookies...
Going Clockwise...
Avocado & Olive Canepes
, Topped With Avocado Slices...
Fried Fish With Sesame
, Coupled With Avocado Dip...
Avocado Lebanese Rolls
...
~~~
Not long after we'd had that candid conversation...
Chef Kunal Kapur took Center Stage...
He tweeted this pic, after the event.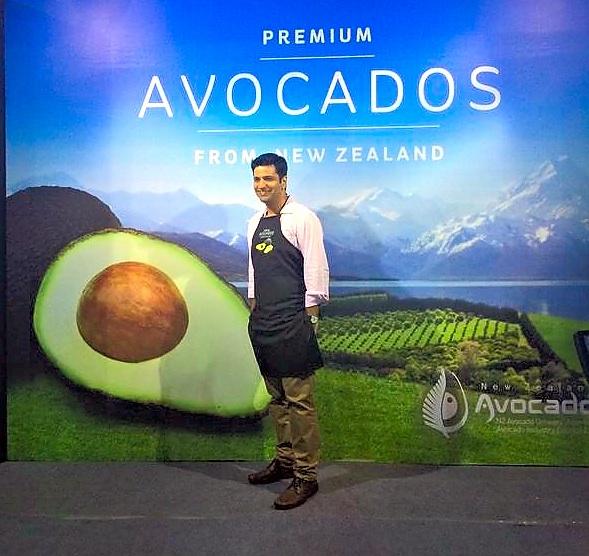 Chef, waiting to unveil the magic of Avocados...
He experimented with four dishes in a LIVE Kitchen Demonstration...
First up, was Avocado Sev Puri.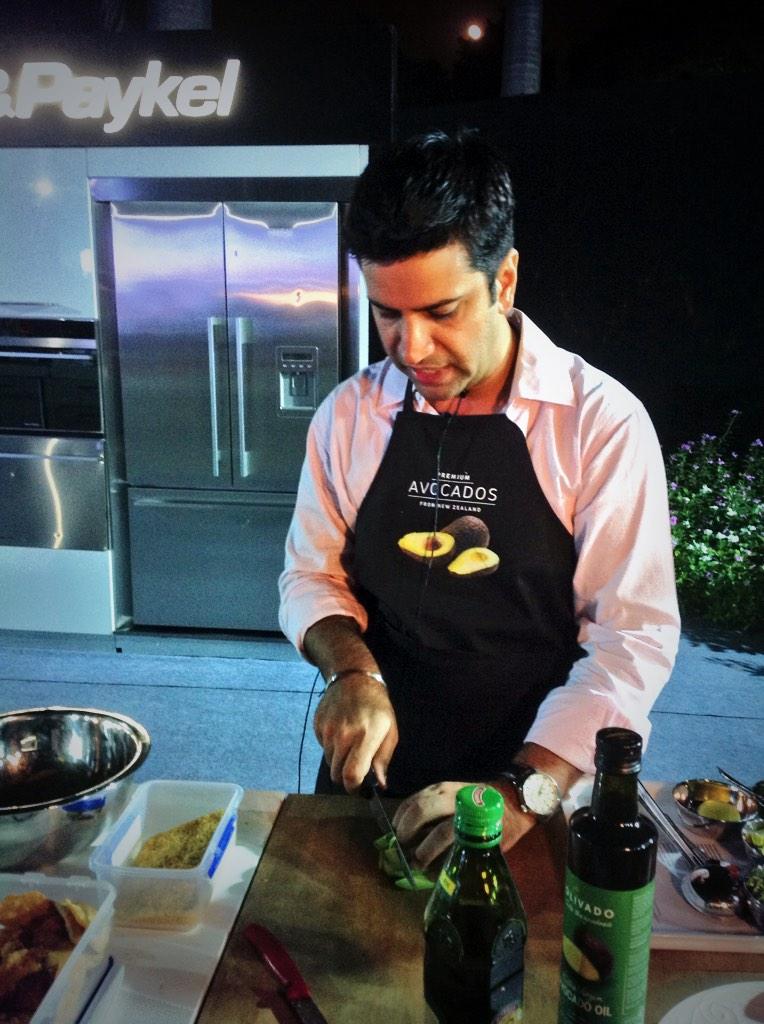 Second, NZ Avocado in Coconut Curry.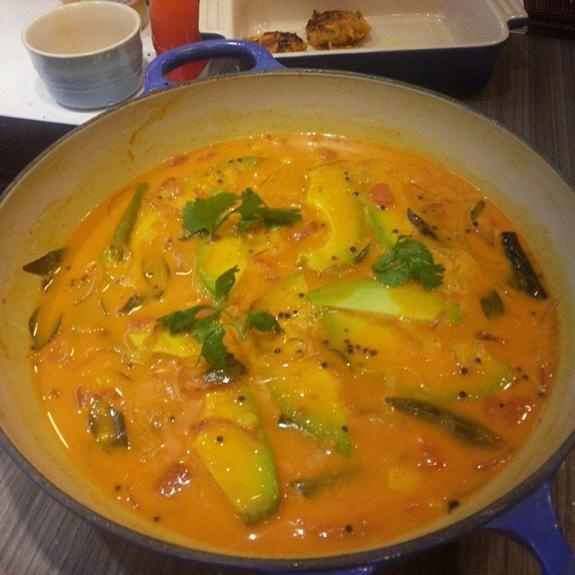 Third, Avocado & Kiwi Cream Smoothie.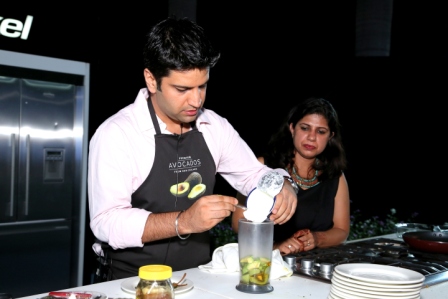 Fourth, Cheese Avocado Parantha.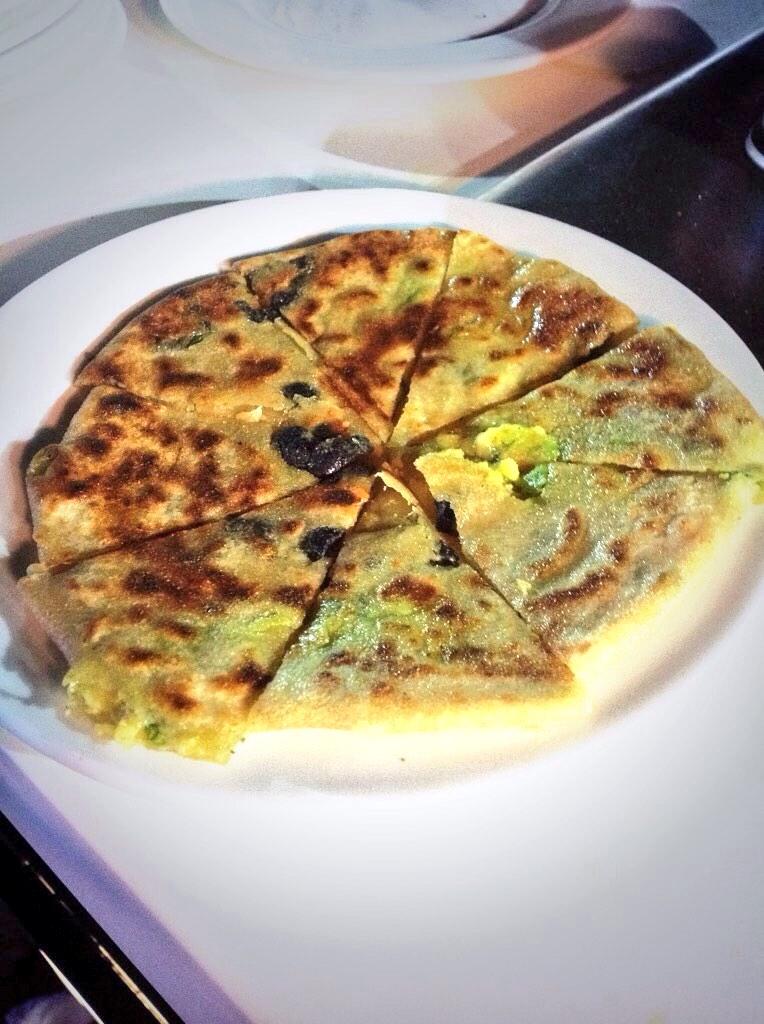 ~~~
And, those are the Stars of the Evening, themselves...
NZ Hass Avocados, straight from Chef's cooking station! :D
~~~
Last but not the least, we were handed out some wonderful, and insightful literature on the goodness of Hass Avocados.
And, some Avanza Avocados, for ourselves, to experiment with, at home, too...
Out of which, I made these...
Avocado paired with Cheese...
And, some Chanaa Avocado Curry to go along with my Basmati Rice...
~~~
And, that brought us to the end of the lovely, sumptuous Avocado Season Launch, at the New Zealand High Commission. :)
~~~
PS: All photographs utilized in the blog-post are the Blog's copyright.
The pictures which do not carry the blog watermark have been picked up from Chef Kunal Kapur's Twitter Handle
@ChefKunalKapur
.
Recently, I also came across the fine details of the benefits of Avocados on a fellow blogger's site,
here
.